Parish Registers
How to trace your lineage back using Parish Registers

You can find baptisms, marriages, and burials in Parish Registers. Whilst Birth Records were usually not recorded, the baptisms of children were. The record would usually give the name of the child, their parents, and where their parents lived. You can use this information to trace their parents, as their marriage record is likely to be in the same place where they live. The marriage record would give you the parishes of both bride and groom, allowing you to trace their parents in the parish, and so on. For Births and Deaths, you need the GRO Indexes which go back to 1837.
Information found in the Registers
Baptism Record:
> Name
> Father's name
> Mother's name
> Date of Baptism

Marriage Record:
> Name of bride
> Name of groom
> Parish where married
> Date of Marriage

Burial Record:
> Name
> Date of Burial
> Age (in some records)
There may also be other information in the records - for example, in a marriage record, the Bride's Parish may be noted. Later records usually hold more information than the earlier records.
The Original Registers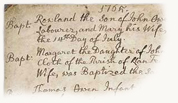 The original parish registers are usually stored in a county record office. These can be viewed by the public, but the archivists are reluctant to allow handling of these old and unique books.
W.P Phillimore & Phillimore's Marriage Registers
W.P. Phillimore, born William Phillimore Watts Stiff, was the son of Dr Stiff, a Nottingham Doctor. He later took the name Phillimore from the family of his grandmother. While educated as a lawyer, he was also a publisher of books. In later life, he began to transcribe marriage registers, which he later printed in book form. When he died in 1914, he had covered 1200 parishes from different counties in 200 volumes. He founded Phillimore & Co. Ltd in 1897, which have been publishing British local and family history for over a century.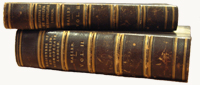 Phillimore Marriage Records are a series of books published in the late 19th and early 20th centuries by Phillimore & Co. Ltd. They cover marriages from various parishes from each county, however there may be some omission as some of the registers have not survived. In some counties, the coverage of parishes is very good, whereas in other counties just a few parishes were transcribed - most counties do not have every parish transcribed.